How One David Handles
A Goliath
Stationery Store Is Not Stationary
By Namita Devidayal
A few months ago, a woman walked into Reliable Office Systems and Supplies and asked a salesperson, "Wow, when did you guys move in here?" Although she lived in the area, she had not noticed the 17-year-old store in Dongan Hills, S.I., until a new awning, neon signs on the window and a redesigned logo attracted her attention.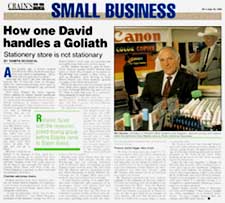 Ever since Staples, the office supplies chain, opened its Staten Island warehouse down the road from Reliable last November, the small store has adopted a variety of marketing initiatives to remain competitive. Flashy signs apart, it has reinforced its commitment to good old-fashioned customer service and is offering choices that are unavailable at large stores.
"We are a service-oriented business," says Bill Hanson, president of Reliable. "We are catering to the office ladies who need their typewriters or copiers fixed urgently, but can't leave their desks," he adds. "Staples will not go to them."
Reliable's response to Staples is an example of how small merchants are facing up to competition from large retail chains that are moving into their territory. Staples is the first large chain to set up shop in the borough, but others, including Home Depot and Price Club, see Staten Island as a gateway to New York and are gradually moving in.
Chamber Welcomes Chains
Despite protests from small business owners, the Staten Island Chamber of Commerce is not in favor of zoning barriers or any other legislation to prevent large chains from entering the community.
"It may be politically correct but it's economically disastrous," says Mark Muscaro, president of the chamber, noting that 30% of Staten Island's retail sales are currently lost to neighboring states such as New Jersey.
In fact, Staples decided to open its warehouse because market studies showed that many of those who shopped at its outlets in Woodbridge and Linden in New Jersey, as well as Brooklyn, were driving in from Staten Island, says Dave Santana, general manager of the Staten Island store.
The giant discount store has already forced three small office supply shops on the island to close. Although Reliable has seen a 5% to 8% drop in sales this year, it is optimistic about keeping its head above water.
"Adaptability is the key word here," says Sherry Gilroy, Reliable's purchasing manager. "We had to go out and find different ways to make money."
Mr. Hanson's initiatives started even before Staples came into the picture. In 1989, faced with the recession and a growing market for mail order purchases, he decided to join a buying group, United Dealers Unlimited. What started with 60 small store members turned into a 1,000-strong body. A successful "must buy" policy encouraged suppliers to give attractive rates to the buying group, which in turn promised to stay with the supplier.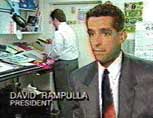 Beating large store chains was the next hurdle. Staples had already moved into Woodbridge and was enticing customers with its discount signs. On finding out that Staples would soon be down the road from him, Mr. Hanson and his marketing strategist, David Rampulla of Communication Associates Inc. in Dongan Hills, met every week for one year to figure out a strategy.
"It took Staples coming in to make Reliable more competitive and capitalize on its advantages, which were always there but never put to use," says Mr. Rampulla.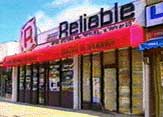 The storefront was done up. The store introduced a variety of new products and services, including a full-service postal substation and a greeting cards section. Mr. Hanson also doubled efforts to take an interest in customer needs.
Pizzeria wants bigger slice of pie
"We help the local pizza guy make his fliers, turning his ideas into catchy desktop art works at no extra cost," he says. "Or, if a customer calls in about a broken copier, we will stop what we are doing and send one of our technicians to fix it immediately, even loan you a machine. Unlike Staples, we don't subcontract our after-sales service," adds Mr. Hanson, who started out in the business as a copier serviceman.
Mr. Hanson's approach may have worked, judging by the response of old-time customers, who are sticking with the neighborhood stationer they call "Billy." Says Joe Madory, vice president of Gateway State Bank, "Since our clientele is primarily on Staten Island, we like to give most of our business to local vendors." He says that he does not see much of a difference in price when it comes to corporate rates.
Mr. Hanson believes that although Staples advertises lower prices on certain goods, it is actually using an age-old supermarket strategy of offering screaming discounts on select products in the front of the store, while pushing up the prices of other items to make up for the reductions.
Toner for the copy machine is cheaper at Reliable. But most key office products have a lower price tag at the warehouse. Comparative price lists indicate, for instance, that a box of letter-sized manila folders costs about $4.25 at Reliable and about $2.99 at Staples. Staples store managers are also authorized to offer price deals if a customer brings in a competitor's advertisement featuring a lower price on any given product.
Staten Island resident Tony J. Bernardo will stay with Staples. "I have always bought my office equipment at a discount warehouse," he says, "simply because they are cheaper and offer more variety."
Crain's New York Business, July 18, 1994
copyright 1994 Crain's New York Business